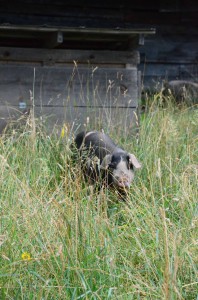 We are currently taking orders for
pasture raised pork, whole or half hog!

We first started raising pigs after buying one from a neighbor. We enjoyed it so much that each year we added 1 or 2 more. This year we decided to raise the bar and get 10 pigs. We now have excellent pork for sale! If you would like to reserve one now go to our Farm Products Page or contact amy@new.watermarkfarm.com for more information.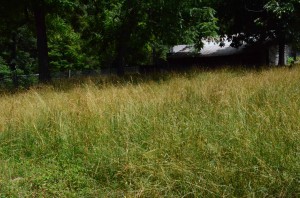 Do you see pigs in the picture on the right? They are in there. Our pigs have plenty of space to roam. They make happy grunting noises as they move around the pasture. Our pigs come from an excellent breeder with a long heritage of farming. They eat acorns, grubs and all the things that pigs naturally eat. We supplement their foraging with garden scraps and an all grain-vegetarian feed. In the Fall they got leftover apples from a local orchard. Happy, well fed pigs make excellent pork! Since they are so healthy from a diverse diet and good genetics we have never had to treat them with antibiotics or any other medications.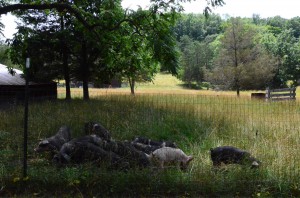 Reserve you pig today! We do whole, half and smaller portions.
To order your pork check out our Farm Products Page.
Any questions? Contact amy@new.watermarkfarm.com.